Review on Wonder
Wonder is a wholesome film that follows a 10 year old boy named Auggie, played by Jacob Tremblay. This heartstopping story involves a lot of drama, suspicion, and intensity. "Wonder" brings out so many emotions- sadness, happiness, and maybe anger. Although it is not based on a true story, this touching film shows the viewers watching the discrimination that disabled people may face everyday.
The main character, August Matthew Pullman, was born with Treacher Collins Syndrome, a rare facial deformity that required dozens of surgeries during his first decade of life.
He also has Hemifacial Microsomia. He did not go to school because his parents did not want him to feel upset or unwanted; they were trying to protect him from the whispers or shocked looks. However, in the fifth grade he enrolled at Beecher Prep.
Auggie is a bright kid with beautiful words and always has the most wonderful things to say. "I think there should be a rule that everyone in the world should get a standing ovation at least once in their lives," said Auggie. He believes that everyone should feel the joy of someone else being proud or the feeling of accomplishment.
Jack Will (Noah Jupe) is a friend of Auggie. He is a kind-hearted and sweet boy, always having a voice for people who do not have one. He is very courageous and knows the difference between right and wrong. Sometimes he does not think before he says things, but at the end of the day his intentions are always pure and he always tries his best.
Another person Auggie interacts with is Julian Albans. When Auggie and Julian first met, he was very rude, and even got other kids to band up against him. He is an only child and popularity is very important to him, but at the end of the film, Julian made the right decision and apologized to Auggie for his rude behavior.
This spectacular film mazingly shows the hardships of growing up with an illness. It really shows the love between Auggie in each of his relationships, even with someone like Julian who was mean in the beginning. Auggie's relationship with his friends, his family, and his classmates show his kind nature.. This film had a lot of ups and downs, in the end it's definitely worth it.
About the Writer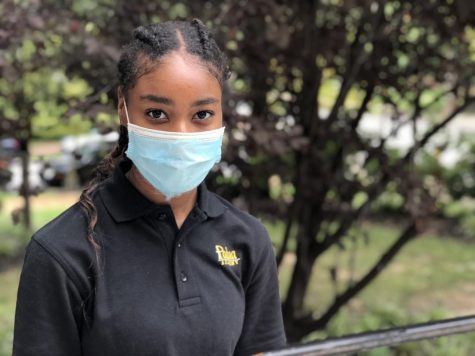 Caitlyn F. '24, Staff
Caitlyn French is a freshman at Padua, and although she finds nothing interesting about her life others may disagree.  Caitlyn has nearly traveled the...