"The Princess Switch": They Should Have Stopped at One
It took me five days to watch "The Princess Switch 3: Romancing the Star," not because I enjoyed it, but because I could not sit through more than 20 minutes at a time. In the end, this romantic comedy made good actors look bad.
The plot was just like every other Hallmark movie: predictable, cringy, and cheesy. A priceless relic, the Star of Peace, is given to Margaret, the Duchess of Montenaro, for an international Christmas festival. Then two thieves break into the manor and steal the relic. Because of this, Margaret is forced to see her ex-boyfriend, a former INTERPOL investigator. Margaret works with her lookalike friends, Stacy and Fiona, to find the Star of Peace in time.
"The Princess Switch 3" hit Netflix on November 18. Vanessa Hudgens plays three of the main characters: Margaret, Stacy, and Fiona. Kevin Richards, played by Nick Sagar, is Stacy's best friend and Margaret's husband. The film stars Alexa Adeosun as Olivia Richards, Sam Palladio as Edward Wyndham, and Remy Hii as Peter Maxwell. Directed by Mike Rohl, the production team had cast many unfamiliar names in the industry, but they managed to rope in Hudgens for the three movies in the series.
This movie is the epitome of all Hallmark movies; it is easy to predict the ending, and it involves cheesy romance and a horrible plot. The Rotten Tomatoes rating is 42 percent, which in all honesty is being generous. People who like the first two films seemed to enjoy this one as well, but I could not even get halfway through the movie. Vanessa Hudgens was a star in "High School Musical," but not in "The Princess Switch." While Zac Efron stepped up from "High School Musical," for Vanessa Hudgens, this was a step-down. Vanessa Hudgens was great in High School Musical, but this film just made her look like a bad actress.
Enough about the actors; let's talk about the outfits. To put it simply, they were either okay or horrible. One word, in particular, comes to mind: sparkles. They were in almost every outfit. If I saw any more sparkles, I would have thrown something at my TV. I am a fan of monochrome outfits, but this movie ruined it for me. There were some good outfits—emphasis on some—but Fiona's outfits were meant to match her ugly personality. I'm not a seamstress, but I think I could put together better outfits.
My one takeaway from this movie is that when people like the first one, don't ruin it with a second and third. If you're a young kid who does not quite yet understand the difference between good and bad films, this is the movie for you.
About the Contributor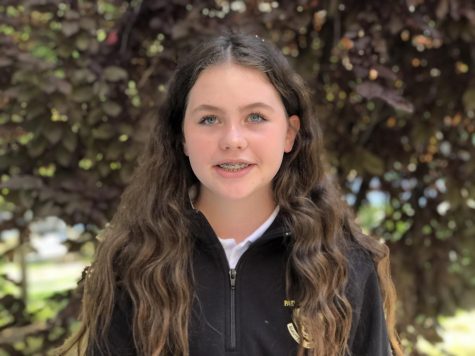 Bridget M. '25, Reporter
Bridget McManamon is a current freshman at Padua Academy and a reporter for Padua 360. While Padua wasn't her first choice for high school, she said...