Taylor Swift Takes Back "Red," or Does She?
The first song Taylor Swift song I heard was "You Belong With Me." I had heard that song when I was eight, and ever since then I have stuck by Swift's side in every album she wrote. Then I saw she was re-recording her albums, and was so happy to hear them. But then I heard her newest one, "Red (Taylor's Version)," and I wasn't happy anymore.
On November 12, "Red (Taylor's Version)" was released. Of her 14 albums, Swift has now re-released "Fearless" and "Red." Swift started her career in 2005 by signing with Big Machine Records, but the company sold her albums for $300 million without her knowledge or consent, according to Time magazine.
I agree with Swift when she said, "Red is going to be mine again." Swift said in a Twitter post talking about the new album. Her second most streamed song on Spotify is "All Too Well" with 35,555,459 views. The song itself is genuinely beautiful and one of my favorites.
Swift's album includes titles like "22," "We Are Never Getting Back Together," and my personal favorite, "Everything Has Changed" with Ed Sheeran. The song to me seems a little more personal with Swift, considering how much has changed since she got into the music industry. Out of the 30 songs on Swift's new album, 9 of them are "from the vault." From the vault is a series of songs that were not originally on the first version of this album. As much as I love Swift, a few of them should have stayed in the vault.
As I had previously mentioned, "All Too Well" is Swift's second most listened-to song, and the first is the same song's new 10-minute version, with 108,298,320 listens on Spotify. Yes, it is 10 full minutes of Swift singing about something that could have been. "All Too Well" was all well, until it was too long. You think the song ends when it picks right back up. Sorry, Swift, but that was 10 minutes of my life I will never get back.
Another song, "Take Me Away," has a great set of lyrics, but the tune of it makes her sound pitchy. It is like a rollercoaster of octaves and pitches. Some of her songs just do not fit her vocal range like they used to.
Most of her classic and well known songs are still on the album and are some of my favorites, but when "Stay, Stay, Stay" came on and I heard the opening note, it made me want to leave, leave, leave. The song is so repetitive that it makes me want to explode and throw my laptop at the wall. But I guess the song is cute if you want to hear the same words over and over again.
I am not too sure how to feel about this album because some songs are good, but others just aren't as good as the originals. If you have the chance to listen to this album, do it. It shows how much Swift has changed in her career. Although this album is great in many aspects, there are a few things about it that make me question if Swift really has changed.
About the Contributor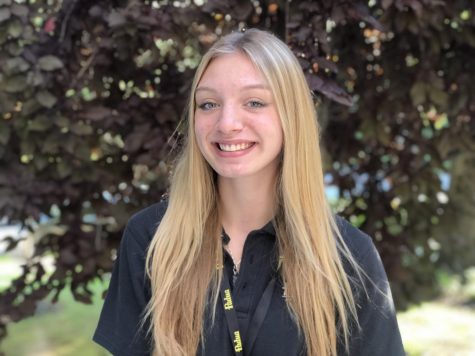 Paisley D. '25, Reporter
Paisley D. is a freshman hailing from Brandywine Springs School. This year, she is a staff reporter for Padua 360 in the Multimedia Journalism class. So...