Ms. Stauffer: More Than Just an Athletic Trainer
Among the many new faces in the halls is the athletic trainer, Ms. Grace Stauffer.  Students can find Stauffer in the back of the lift room helping athletes or in the classroom teaching sports medicine. 
Stauffer attended Neumann University, where she took many different types of athletic training courses.
"I had a lower extremity course, an entire class on taping, and the usual biology and chemistry courses," she said. "The biggest thing though was the clinical rotations that I completed sophomore through senior year."
Stauffer said she knew she wanted to be an athletic trainer since her senior year of high school when she broke her collarbone playing soccer. 
"When I broke my collarbone I had to go to the athletic trainer, who unfortunately was not the best at his job," Stauffer said. "So I decided I was not going to let that happen to anyone else."
Mary Mancini '23 is on the varsity volleyball team and went to Stauffer when she injured her knee.
"She's helped me a lot this past season because the first couple of weeks into preseason my ankle started to bother me, and she was really great at getting me in to see Dr. Mesa [the orthopedic doctor] and continuing to check in with how everything is feeling," Mancini said. 
Accepting the position at Padua meant that Stauffer would also take over teaching the Sports Medicine class. 
"I always wanted to teach so when I got offered to come to Padua instead of my original offer, I said, 'I'm coming here,'" she said. "And it's honestly been the best. I've always wanted to teach, even when I was really young. I didn't know I wanted to teach sports medicine, but it has been so cool to be a teacher."
Ella Aghajanian '23 is taking Stauffer's Sports Medicine course this year.
"My favorite thing about her teaching is how young she is because I think she can relate to us in a way many other teachers cannot, and she is always available to help us," Aghajanian said. 
Stauffer said her favorite part about teaching is getting to expand the knowledge of her students.
"The best part is having a kid come up to me after practice, and they're like, 'This is what happened and we learned this in class,' or it's like, I had someone get hit in the face, and they were like, 'Well, it's not an orbital fracture,'" Stauffer said. "So it's like getting to see them use that little bit of knowledge that they're learning is just so fun to me."
When Stauffer is not teaching or helping students, she enjoys her time outside of school. 
"While I feel like laundry takes up most of my time, I enjoy spending time with my dogs on the front porch and hanging out with my friends," Stauffer said. 
According to Mancini, Stauffer has already made a positive impact on the school community and has connected with many athletes and students. 
"She's one of the teachers I feel as if I can talk about anything to, and when I needed help curling ribbon for senior night, she offered to help, " Mancini said. "She's a really good listener and whenever I have a bad day, she's always willing to listen."
About the Contributor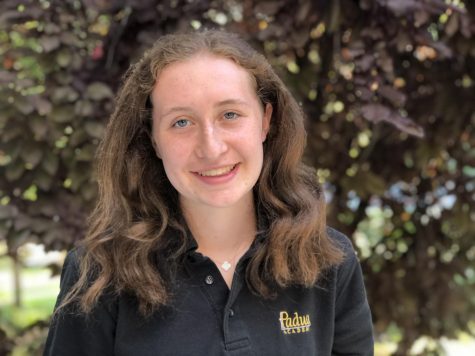 Claire M. '23, Reporter
Claire Merchant is a junior at Padua Academy and a writer for Padua 360.  She went to Saint John the Beloved for middle school, and she said it prepared...