Top 10 Halloween Costumes
With Halloween quickly approaching, the need for a fun and appropriate costume for both the weather and school is rising. This year, Halloween falls on a Monday and there are less than three weeks to pull a costume together. If you like to plan ahead or are a last minute person, here are the top ten best costumes that are sure to be practical, but also impress your friends and fellow trick-or-treaters.
If you like to plan ahead, these 5 costumes ideas could help you get some inspiration for you costume:
A

Pokemon Go

Trainer or Leader
With the explosion of Pokemon Go, the three Pokemon leaders, Candela, Blanche, and Spark, are perfect but fairly complicated, if you are willing to spend a little money on a costume. If you want to be a little more simple, you can go as your own character that you made! DIY trainer costumes are easy to make and involve clothes you might already have.
A Disney Princess (or villain)
As cheesy as it may sound, being a Disney princess can be very fun and brings out your inner kid. They are fairly versatile and easy to find online. Also, there are many princess to choose from so you know you can find the perfect one that fits your style. If you think the good side is too cliche, the villains may be a better choice. Villain costumes may be harder to achieve but they will give you a cooler and darker look overall.
A Ghostbuster
The new Ghostbusters movie brought a new era of female Ghostbuster costumes. They are easy to find and Padua appropriate. However, the Ghostbuster vacuum may be a bit clunky and hard to handle in the classroom.
A superhero
Finding a superhero costume that is warm and Padua appropriate can be tricky, but finding a good costume is easier than you think. Superman and Batman costumes are the most popular. They even are available in comfy pajama onesies if you don't want to get an elaborate or highly expensive costume. Being a comfy superhero is just as fun! Either way you will feel very powerful during your classes.
A

Wizard of Oz

Character
The Wizard of Oz is a classic and the adorable and lovable characters make for great costumes. With many to choose from, like Dorothy or the Cowardly Lion, you are sure to find someone to remind you that there's no place like home.
If you are more of a procrastinator and are planning to throw a costume together a few days before, these costumes will be more your style.
An emoji
Being an emoji is easy to make and wear. All you need is black clothing and a large yellow material for the face. With so many emoji faces, you will easily find the perfect one to showcase your mood for the whole day.
A Cat or Mouse
These classic but super simple animals are always good last-minute picks. They can be achieved easily with clothing you already have as well as some cute ears on a headband and a tail to top of the whole look. You will be cute as a button without having to spend more than $10 on your entire look.
A pun or play on words
A creative approach that doesn't need much preparation is a punny costume such as The Gingerbread Man (red hair and a loaf of bread). You can find loads of ideas for a punny costume online and most of these looks require materials you can find around your house.
A sleepy head
Sometimes you just run out of time to get a costume. No worries, going to school in pajamas, slippers, and even a blanket and pillow is not only super comfortable, but easier than any other costume you can imagine.
A sports player
If you play a sport or are a hardcore sports fan, you can use that to your advantage and wear your memorabilia/ uniform as a costume. A jersey, your gear or DIY gear, and even some war paint can be an easy way of turning yourself into a member of your favorite sports team.
Some things to remember while picking your costume, non-Padua appropriate costumes can get you into some trouble; avoid Miley Cyrus and French Maids costumes. Though it is not against the rules, avoiding clown costumes is also probably a good idea because of the recent news about the clowns. Halloween is supposed to be fun, so remember to have a good time dressing up.
About the Contributors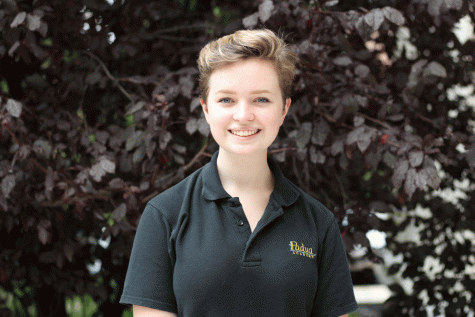 Maddie Z. '18, Graphics Editor
What grade are you in?

I'm a senior at Padua.

What is your favorite food?

My favorite food is my homemade enchiladas.

Favorite music?

...