Candy Gram Sales
Christmas is just around the corner! It is a perfect time to reach out to those to show you care about them. From December 6th-13th, Candy Grams will be sold in the cafeteria during lunches for $1.00.
Candy Gram sales have been a tradition within the Padua and Salesianum community for more than 25 years. This tradition occurs each year during Christmas and Valentines Day.
Both schools always enjoy participating. Junior Emma Julian said, "I like participating in sending candy grams to my guy friends over at Sallies because it is fun and enjoyable to get into the Christmas spirit". It is a great way to reach out to old elementary friends or sweethearts in a fun and silly way. Candy Grams are designed to be a friendship builder and have a lot of meaning behind them. Ms. Grugan, a teacher at Padua, shared one of her Candy Gram stories saying "My neighbor that lives across the street from the house I grew up in has been a teacher at Sallies for the past 37 years and had just retired this year. When I was a student at Padua he would always send me a Candy Gram and sign it with his house number. When I started teaching at Padua, 10 years after I graduated, he started sending them to me again! I loved that."
Not only do they bring laughs and smiles, Candy Grams also help to raise awareness. The S.A.D.D organization is in charge of the Candy Grams and it is the only fundraiser they have. This organization is very important and is very serious about raising awareness to the issue of distracted driving and seat belts. Each small donation counts to make a big difference, helping to save lives without even knowing it. "I think Candy Grams are a good way to connect with old friends and it goes towards a good cause. I participate every year!", said Junior Claudia Carr.
By contributing to a good cause in a fun and enjoyable way, Candy Grams are a perfect treat designed to bring together both school communities sparking the Christmas spirit. Send yours today!
About the Contributor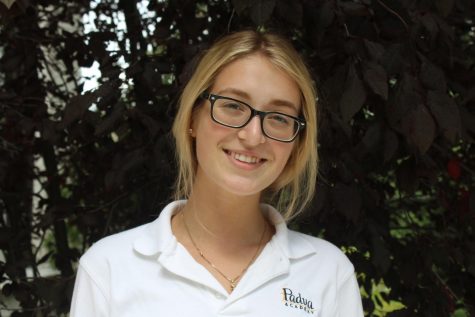 Ava R. '19, Editor
Ava Rudawsky is a senior at Padua Academy. She ran track sophomore year and participated in cheer for two years. Ava has traveled to many places including...