A Closer Look Into the New Chapel
This year, students came back to school to find that many renovations had taken place over the summer. One of the biggest changes was the complete remodel of the school chapel on the second floor. Orchestrated by Mrs. Mann and several teachers, the once dark and cramped room is now light and airy. "It's so peaceful," said junior Fallon Grace. "It's like a whole different place."
Redoing the chapel was something that Mrs. Mann had been planning to do ever since she arrived at Padua. She said the darkness of the old chapel never sat right with her; it felt almost forbidden. She knew she needed to "bring light into the chapel".
She certainly did; instead of the stools there are bright blue chairs, the walls are now painted a sandy white color, and the tabernacle has now become something that "you can't take your eyes away from," Mann said.
The tabernacle is Mrs. Mann's favorite part of the chapel. "We really brought out the colors and the radiance of the mosaic [in the tabernacle]," she said. "It becomes the very focus of the chapel… and you really just feel so close to God."
Ms. Michelle Keefe, who was also involved in redoing the chapel, said the tabernacle was one of her favorite parts of the chapel as well. She also enjoyed picking out how the lighting would affect the space. The lighting now intentionally highlights specific parts of the chapel, like the stained glass and the tabernacle.
"
I know I'm finding that comfort because it doesn't come from the chairs, it comes from God."
— Ms. Keefe
Ms. Keefe says that she does miss the familiarity of the old chapel, but that everything that is important is still there, even more pronounced than before. "Ultimately the strength that comes from knowing I'm talking to Jesus, that's never going to change whether it's blue or brown or stools or chairs," she said. "I know I'm finding that comfort because it doesn't come from the chairs, it comes from God."
Both know that in the end, the chapel is a respite for students, faculty, and even alumna. "That's the goal, to have a place where students know… [they're] always able to go, to feel loved, to feel safe, to feel at peace," Ms. Keefe said. "To feel that presence more than just any other room in the building."
About the Contributor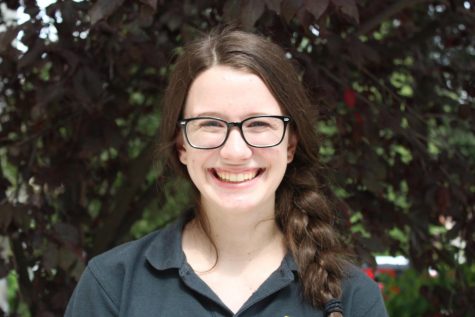 Brynna B. '20, Reporter
Brynna is a junior at Padua Academy. She loves writing, acting, dancing, and watching TV. Her favorite things to watch are Stranger Things, Sherlock, The...