Oh Wonder
Hang on for a minute...we're trying to find some more stories you might like.
Oh Wonder, an alternative-pop duo from London, performed a show in Philadelphia on September 29 as a stop on their "Ultralife" tour. Their current tour consists of over 60 stops both in the United States and internationally, debuting their newest album, titled "Ultralife".
The duo consists of Josephine Vander Gucht and Anthony West, friends that met through their previous careers in the music industry. They started out the band by releasing one song each month starting in 2014, eventually collecting them together to form their self-titled and self-released debut album "Oh Wonder".
The show last Friday was played at The Fillmore Philadelphia, one of the newest and most popular venues for bands and artists that aren't quite ready to hit stadiums. Setting the mood for their performance, singer/songwriter Jaymes Young opened the night with some of his more popular songs, most notably "Habits of My Heart". Saying he has been a fan of Oh Wonder since before they met, he was more than honored to be a part of their biggest tour yet.
"
I love the vibe that Anthony and Josephine brought to the crowd…"
— Lily Moon, '18
Once on stage, the duo performed a balanced mix of songs from both of their albums, leaving one of their most well-known songs, "Drive", for the encore. They came prepared with a full light show for the audience, using their signature "OW" lights, along with dozens of other lights lining the stage to create a strong aesthetic to go along with each song for the audience.
Lily Moon, a senior at Padua, says, "The concert was so good! I love the vibe that Anthony and Josephine brought to the crowd, giving it so much energy and making it a great experience for everyone there." Moon has been a fan of Oh Wonder since some of their earlier days, seeing them for the first time at Firefly 2016, which was also the band's music festival debut. Although gaining a much larger fanbase over the past year, Moon says that their dynamic definitely has held steady and they are still the band that she fell in love with almost three years ago.

About the Contributor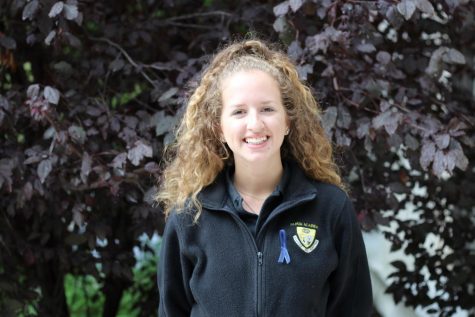 Dani F. '18, Reporter
What grade are you in?

I'm a senior at Padua.

What is your favorite food?

My favorite food is sushi, especially at Lily's Asian Cuisine...