Pilgrimage 2017
Hang on for a minute...we're trying to find some more stories you might like.
Once every year on the Saturday before Palm Sunday, churches from all over Delaware come to Wilmington for the Pilgrimage. This year about 800 people walked the streets of Wilmington while carrying the cross. The Bishop also attended. It was his 26 year walking and socializing with the youth. Every year, the trip starts off in St. Elizabeth's gym for check in and opening prayer then, you're off!
Their first stop this year was at St. Francis Hospital where they prayed for the sick. They also prayed for all of the doctors and nurses of the hospital. After that, they traveled up to St. Anthony of Padua for Reconciliation and lunch in the grass outside of the church. Around two o'clock, the Pilgrimage continued as they went a few blocks to Padua. At Padua, the Stations of the Cross were read in English and Spanish. Next, they arrived at St. Paul, where everyone was greeted with very cheerful music. At St. Paul, everyone attended Eucharistic Adoration. At around four o'clock, the Pilgrimage started their way to St. Hedwig for the Blessing of Palms. Palms were distributed and blessed. Then, everyone started to make their way back to St. Elizabeth's for the Mass for Palm Sunday of the Passion of the Lord.


About the Writer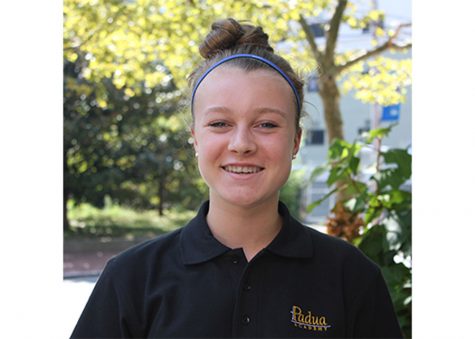 Clare M. '20, Staff
As an incoming freshman this year, Clare M. is looking forward to meeting new people and trying different things. Driven by the motivation to become very well rounded at Padua, Clare has already started off her year with a spot on the volleyball team and hopes to join many clubs throughout the year. Although volleyball is one of Clare's biggest passions, she knows that studies must come before that and is determined to keep up her grades while still crushing it on the court. Despite being quite the procrastinator, she can achieve anything and everything she sets her mind to. Also, Clare says her procrastinating is something she hopes she can fix this year so she can excell her freshman year at Padua. Clare believes her biggest educational weakness would be English, such as writing and vocabulary but, with her attitude and mindset, she can keep pushing and eventually become an expert in these subjects. Her biggest strength is math, because it comes easily and makes the most sense to her. Clare is mostly interested in science, and looks up to her cousin, who is a marine biologist, aspiring to be like her one day. Clare also loves helping others and hopes to continue helping people all throughout her life. One of her favorite activities at her grade school was a Best Buddies program, which she hopes to continue with by joining Blue Gold. One main reason Clare took Journalism was for photography, saying she loves the art of taking pictures and putting everything together. Clare also wants to contribute a lot into the paper, however, she does not want to handle everything because she claims she does not do well under pressure. She feels it would be better for everyone on the paper to work together and incorporate everyone's ideas into each piece of work. Clare also believes in quality over quantity and something being done well rather than it getting done quicker. She loves working with others and being together for group projects is her favorite, since she can work with others and bring everyone's ideas together. Outside of school, Clare loves to watch movies in her free time. She is a huge fan of One Direction, but she loves all types of music. Clare hopes to improve the Padua newspaper by incorporating her own unique ideas and hopefully getting more viewers.