Class of 2025 Starts Return to Normalcy with Convocation
During a student's time at Padua Academy, they will receive a yellow rose at three major milestones: one at Baccalaureate, one at Junior Ring Mass, and the first at Freshman Convocation. Each student receives the stage of the rose corresponding to their milestone, starting with a bud at convocation and working their way towards a fully bloomed rose at Baccalaureate.
Mrs. Alinda has helped plan four freshman convocations as director of Campus Ministry since 2018. To her, the yellow rose bud has a deeper meaning unique to the freshman class.
"It very much is meant to symbolize the beginning of the journey and the beginning of the growth, and the gift of self that's going to happen over the four years," she said.
As freshman Tess Nicholas starts her journey at Padua with convocation, the next milestone she is looking forward to comes at the very end of it.
"I can't wait to graduate," she said.
Events like graduation, convocation, and the ring ceremony changed over the last year due to COVID. The celebration of convocation specifically was limited to individual religion classrooms in 2020. But Alinda said she made the best of the unprecedented situation.
"There was something really beautiful about the way we did it last year, as unideal as it was, because it was really intimate," she said. "I got to meet and speak with these freshmen, as part of convocation, in a way that I usually don't."
This year Padua returns to an in person Freshman Convocation at St. Anthony of Padua Church. However, safety in regards to COVID still remained a priority of the school.
"I'm fully vaccinated so it didn't matter that much to me, but I thought it was nice and was glad it wasn't online," Nicholas said.
While the slow return to normalcy begins, Alinda prepared for a convocation with limited seating and required masks. However, even with these restrictions in place, many families came to help celebrate the Class of 2025.
"I'm really excited to have families be able to celebrate in a way where they are present," Alinda said. "They can go out to dinner together, you know, the things that are more normal markers of a milestone event like this."
About the Contributor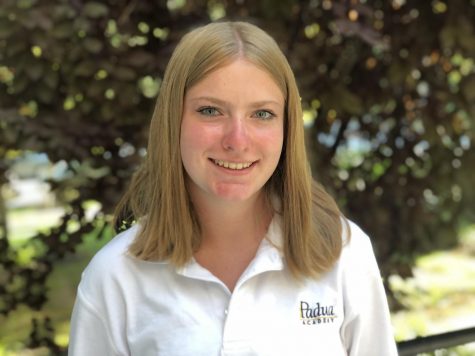 Maggie P. '22, Reporter
Maggie is a senior at Padua Academy. She took Journalism to continue to take advantage of Padua's media classes, she has been involved in PATV and the...