Social Media Offers Student Artists a Creative Outlet
Social media platforms are popular places to share information quickly, and visual art is no exception. Ranging from filmmakers to musicians to bakers, some student artists exhibit their work for users to see on social media. These creators each had unique experiences navigating the digital world of followers, likes, and comments.
Senior Kendall Pastreich participates in a popular art form on TikTok: cosplay. This involves dressing up as a character from movies, television series, or books. She began cosplaying characters from the "Warriors" book series and now has over 3200 followers.
"I started… because I was regressing back into middle school interests," Pastreich said. "So I'm like, 'Okay, I like the characters, I can do easy interpretations of them and just add a little bit of makeup to it.'"
Pastreich's filming setup is simple: a music stand for the camera and a bright light, originally meant for sewing. For makeup, she uses face paint, eye shadow, and lipstick.
Pastreich initially did not think she could cosplay cats, so she struggled getting started on TikTok. However, over time she gained the confidence to share her passion with others on the app.
Likening her following to a group of friends, Pastreich said the relationship with her TikTok fans is "unique" and "really fun."
"I've met other people online who also cosplay Warriors and we all hype each other up," Pastreich said.
In the future, Pastreich plans to cosplay characters from book series and video games to expand her cast of characters and cosplaying skills. She said she also wants to work on her own original characters.
"
It's a fun experience in general because I get requested a lot of different styles of music."
— Arundhati Dole '22
Like Pastreich, junior Arundhati Dole posts videos online to share her talents. She plays the piano on her YouTube channel, which she started as part of a recent fundraiser.
"I wanted to do something for the Choir School of Delaware since it's an organization that was contributing to a cause that I care about, which is education and music," Dole said.
Donors requested songs for Dole to play throughout the Christmas season. She usually completed each recording in one session and then uploaded it to her channel.
Dole said her favorite style of music to play is pop, but she received requests for a variety of styles. She is just getting started, so she plans to upload more videos in the future.
"I don't know if I'll do another fundraiser, but I might just keep uploading videos for fun," she said.
Overall, Dole has received very positive feedback from her YouTube audience, with many sending her "really nice" compliments or listening to the whole playlist. Dole shared a meaningful experience with one of her viewers.
"One of my mom's friends requested a song," said Dole. "She said, 'Oh, I was stressed out because of work, and then I heard your song and it just made my day better.'"
Dole is not the only Panda playing music on social media. Sammy Focht, a sophomore, manages a music Instagram account where she sings and plays covers on piano, ukulele, electric guitar, and acoustic guitar.
Her friends encouraged her to start the account, but she nearly stopped posting videos in the beginning. She soon gained confidence and a "supportive" audience and decided to continue uploading. Most of her followers are friends, students, and small music accounts.
"Someone told me to always reach out, always ask questions, because you're gonna constantly grow," Focht said. "I'll direct-message some small singer-songwriters, and sometimes they'll respond back to me which feels really great, and they give me some advice."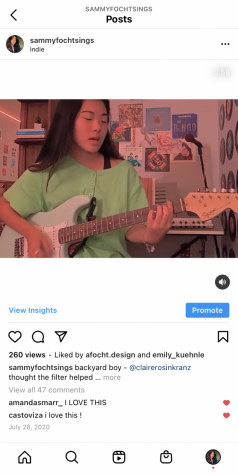 While she does not plan to pursue a career in music, Focht hopes to continue posting covers on Instagram, and she enjoys being part of the music community.
"I definitely want to… constantly grow, … develop my voice more, and learn more about the instruments I play," she said. "[I] get inspiration from everyday people or just someone I'm talking to because that's what music's about. It's about the world and how you perceive it."
Instagram users can also find junior Jordan Kenton's colorful baking creations. She posts images and videos of her projects, often inspired by suggestions from her friends and family.
"I always do things for my family, for big occasions or birthdays or anything," Kenton said. "… Once in a while I'll see a recipe that I think looks really interesting and I'll make it."
Kenton described her followers as "really, really positive." While the pandemic has made it difficult to bake for people outside her family, she is "always open to requests or ideas."
Kenton's "gradually expanding" baking supply collection now includes a candy thermometer, piping bags, and a variety of cookie cutters. She hopes to keep using new tools and experimenting, but chocolate chip cookies and birthday cakes are her "go-to" items.
"I'm definitely going to keep sharing my birthday cakes because I like to make them every year now," Kenton said. "I kind of just share whatever inspiration comes to me; there's not really a theme."
Also on Instagram, Millie Migliore, a sophomore, and Katie Dorsey, a junior, post "hype videos" to rally support for the track and cross country teams. They film videos during practices that highlight the runners and generate excitement before competitions.
"[The team is] working hard and we try to get a video of every person on the team so it's more like a team effort, not just the fast people," Migliore said.
During practice, they take turns filming with their video camera, GoPro, and drone. Migliore completes most of the editing, and Dorsey makes an announcement on the account's story before posting.
"We tell everyone that we're gonna drop a video and everyone just gets really, really excited for it," Migliore said. "We definitely have a lot of support."
Migliore and Dorsey have a "really fun" relationship with their audience, a following of users from the local high school running community. While Dorsey said the videos are "mostly for the team," the runners often share them on their own accounts.
"It's always exciting when we get a person saying that it's a good video," Dorsey said.
"
It's free to the public, so you have to get people interested in what you're making and make it trendy."
— Katie Dorsey '22
Besides creating videos with Migliore, Dorsey runs another Instagram account to showcase her art pieces, mainly painted sneakers and canvases. The inspiration began when she painted Villanova-themed shoes for her sister and received personal requests soon after.
"Not many people can paint logos on shoes, so I have to take advantage of what I can do," Dorsey said.
Dorsey's creative process begins with an idea for a piece. Once she creates the model, "it gets more fun from there" as commissions arrive.
"I mostly get motivated when I get an order or something, but I have to make the prototype [of the piece] first," Dorsey said.
The artists agreed that their followings play an important role in running their accounts. They each have received a wealth of positive comments and inspiration from others.
Focht advised fellow creators not to "lose the passion" for art, even though social media can center around "likes" and status.
"If you don't feel comfortable with a couple people who follow you, then maybe delete them out," she said, "because you always want to make yourself feel comfortable, and you don't want to have that limit on you.
"It's very enlightening to learn every single day about this aspect of art and to have a community."
About the Contributor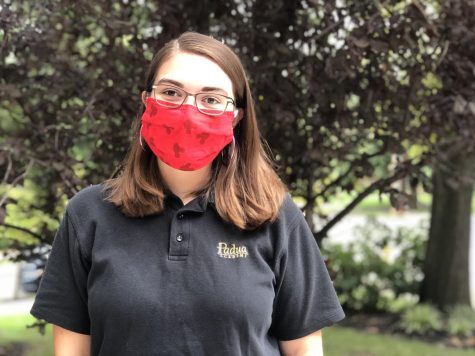 Emily M. '22, Editor-in-Chief
Emily is a Junior at Padua Academy. She took Journalism as a Freshman and is back to be Padua's youngest editor-in-chief! As a writer, she won two awards...