Interfaith Panel Speaks to Students
Four women of different faiths spoke to Padua students on Jan. 24, 2019. Hosted by the religion department, women representing Islam, Hinduism, Buddhism, and Judaism participated in an hour-long video call session with students from each grade to discuss the intersection of womanhood and faith.
Maha Elgenaidi, the executive director of Islamic Networks Group, moderated the discussion.
"We provide interfaith panels on a variety of topics like the one we're doing today on women and religion. We also provide education about Muslims and their faith," she said. "Our mission is essentially peacemaking through education and interfaith engagement."
She was joined by three other women involved in the organization. Lakshmi Chandrashekar Subramanian represented the Hindu faith, a professional Indian vocalist based in Los Angeles running a music and media company called Eclipse Nirvana with her husband. Venerable Tenzin Chokyi represented the Buddhist faith. She is a Buddhist nun living at a center called Land of Medicine Buddha in Santa Cruz as a teacher of Buddhist philosophy and meditation. Conservative rabbi Amy Eilberg was the first female ordained rabbi in the Conservative Judaism movement.
The panel focused on each speaker reflecting on women's rights in their respective traditions.
"When you seek blessings, whether it's the people who are receiving the blessings or those who are giving the blessing, the idea is to do it… with your counterpart, with your partner," said Subramanian. "This stems from the Hindu scriptures where every major Hindu deity has a female divine counterpart."
Shiva, she explained, is a major Hindu deity representing pure consciousness. There is no Shiva without Shakti, his divine female counterpart representing vitality and energy.
Chokyi explained that traditionally, women and men have been on relatively equal footing in Buddhism, especially during the time of the Buddha.
"Buddhism is the first religion that established a monastic order for women equivalent to the monastic order for men," she said. "It was established five years after the men's monastic order."
Women's role in active worship, Chokyi explained, diminished over time as orders of nuns died out and what she called a "cultural patriarchy" developed. The Dalai Lama, however, embraces equal rights for women as he believes the secular world has done.
While the women's rights movement has made significant progress in Judaism, Eilberg explained that we must accept that the Bible tells of a time when the patriarchy reigned.
"In the Bible, many more men are named than women, even though we know that there were just as many women as men, and the strong characters are mostly men… even the strong female characters are clearly working within the constraints of patriarchal society," said Eilberg. "But that said, some of the fundamental principles of Judaism, there's no question but that they apply to women as well as to men."
Judaism, Eilberg said, has unfolded over a course of over 3000 years—thus it is impossible to apply today's standards of equality. She described, however, the experience of living through the modern struggle for equal rights and the progress that has been made.
"On the on the contemporary end of Jewish tradition, we live in a period in which is very clear that Judaism stands for not only the full humanity of women, but the full application and particular participation of women in Jewish life," she said.
Elgenaidi explained that Muslims today are proud to cite rights for women that have existed for centuries, but this does not mean that there is full equality in the faith.
"Muslims love to promote a few rights of women that they claimed to have been handed down on to the Prophet Muhammad 1400 years ago," she said. "They include rights such as the right to inherit, to own property, to support herself by working, to marry only by her consent to divorce, keep her children to be educated, and so forth."
She emphasized that these rights have not prevented men from abusing women—in her eyes, the sense of patriarchy has continued to this day. However, she believes that the inherent nature of Islam is one of equality.
"God created human beings, men and women in a state of fitra. Fitra… is an Arabic word that means innate nature, which is the state of purity and innocence that men and women are born with equally," she said. "This innate nature belongs equally to both men and women. And that's what implies a fundamental inviolable equality. Therefore, in the vision of Islam, men and women are inherently equal in their nature and in their relationship to God."
Reflecting on the rise of hate speech and acts in America, Elgenaidi is hopeful that Americans will bond together to prevent further acts of violence.
"Get to know people, but especially get to know the interfaith community because they're going to be allies if things get worse and get really bad. I pray to God that it doesn't," she said.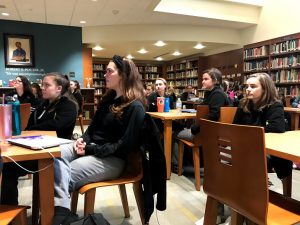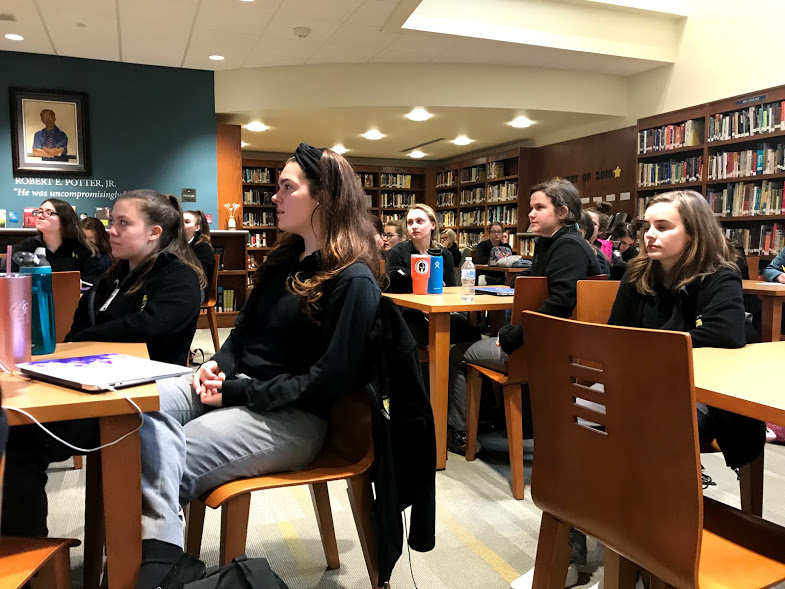 Chokyi emphasized that the America she knows is not a "white Christian nation," but rather a diverse and intersectional community of faiths.
"We all need to stand up against this false narrative that America belongs to white Christians only because that's not not reality," she said. "Awareness is everything," added Subramanian.
Mrs. Kilmon, who organized the panel, has worked with Islamic Networking Group for the last three years.
"I saw a need for students to physically see and hear testimonies of women in differing faith backgrounds," said Kilmon. "Working with this organization has done just that, allows my students to hear the first hand experiences of these women."
Kilmon believes that giving students this experience will help them to continue to learn and engage with religions besides their own, especially within their own communities.
"It also allows for students and faculty who identify within these religions to feel as though they are supported, heard, and seen," she said, "continuing the message of uniting us as a community."
She believes that it is important to support other religions and be "expert outsiders" by learning more about them.
"Exploring with open minds and sympathetic imaginations, we are able to better understand not only other faith experiences, but we better understand our own," said Kilmon. "I hope that programs like the Interfaith Panel continue to grow and spread the needed message of being countercultural in a society that pushes young men and women to leave their faith behind."
"
Exploring with open minds and sympathetic imaginations, we are able to better understand not only other faith experiences, but we better understand our own."
— Mrs. Kilmon
The influence that women can have on religion was particularly meaningful for junior Jade Carey.
"We always hear about male leaders, and they are great, but to hear about women has a connection that is bigger for me and more inspiring for myself," she said. "I found the examples of women they gave in their religions to be most impactful. Hearing how each faith has a woman leader or leaders who defied societal norms for their faith was really inspiring."
Other students were interested to learn about faiths of which they had little prior knowledge.
"The religion that I was most surprised about was Buddhism," said freshman Sarah Woolley. "I didn't know you could be a nun [in] Buddhism."
Freshman Abby Durbano particularly enjoyed hearing information about the faiths.
"It gave me a different perspective on all of the different religions," she said, "and helped me learn about different religions besides my own."
Woolley agreed. "I thought it was eye-opening to the different religions," she said. "What surprised me the most is that all of the religions were so similar, but different."
Georganna Kacperski, a junior, would like to learn more about different role models from each of the faiths represented.
"I thought it was really informative and cool that women from different faiths could talk to us because we are an all-girls school, she said.
Freshman Molly Grant thought that the panel was an insightful experience as well.
"The panel was an amazing experience for me," she said. "It really helped me see how beautiful and unique other religions are."