Getting Married During a Pandemic
When you think of a wedding, you generally think of food, family, and big gatherings. However, when your wedding is scheduled during the middle of a pandemic, there are some necessary precautions that need to be taken to ensure everyone's safety. What exactly does a Covid wedding look like?
Grace Moreno works in textile designs and currently resides in Pike Creek, Delaware. Her alma maters include Padua Academy and Virginia Commonwealth University.
"In ten years I see myself living in PA with a few kids still working creatively still in textile designs or doing freelance surface and pattern design," Moreno said.
Moreno married her husband Dan Moreno on August 29, 2020. Last spring, when Covid was first picking up in the United States, Moreno's now brother- and sister-in-law had to postpone their wedding, which was originally scheduled in April. She noted thinking that she did not have to worry about it because her wedding was months away.
"[As the date got closer], we were like, 'oh snap, we have to deal with this," Moreno said, "and then in July we had to completely scratch the original plan and at the last minute.''
Ultimately, Moreno decided not to postpone her wedding.
"We wanted to get married now and felt like the sacrament in itself was focused on actual marriage versus small ceremony now and saving up for a big party later," said Moreno.
The people who influenced this decision the most were Moreno's mother and her fiancé, Dan.
"[They said that] everything is so unknown and just shifted focus on doing everything now then we wouldn't be sitting on the edge of our seats forever and ever," said Moreno.
"[It was] really challenging for the majority of the summer when things were going up and down until about July when regulation got leveled and we were able to keep building and not worry about things changing."
At the time of adjusting their wedding plans many places were still closed such as venues and restaurants, but the Morenos were lucky.
"It was in the church and in my parents backyard for the rehearsal," Moreno said, "There were a million issues and we ended up changing the venue."
As far as the original ceremony, they were able to stay in their original church of choice, which was the one that Moreno attended throughout her childhood. Thankfully Moreno was able to keep the original guest list for the ceremony.
"[We] set up safety precautions and then cancelled the reception at the original place and did a small reception in the backyard with only immediate family and four close friends," said Moreno.
Moreno further explained the accommodations that they made in order to have their wedding such as hand sanitizer stations and only having one family per pew in alternating pews. They also had mandatory masks, social distancing throughout the church, and they planned for when people would need to move so that no one would cross paths.
In addition to those precautions, they had the groomsmen also act as ushers so that they could get people out of the church in small groups without a bottle-neck happening at the end.
The biggest challenge the Morenos faced was planning their wedding in a way "that people would be comfortable and the most amount of people would want to come."
Having a Covid wedding definitely comes with the idea of sacrificing. Moreno noted some of the sacrifices revolving around her wedding: having to give up on being married by a family member who could not travel during Covid and canceling their reception.
Scheduling a wedding alone can be stressful, let alone during a pandemic. Although she would not change anything about her wedding besides being able to be married by a family member, she considered whether or not they were trying to control their circumstances too much.
Although sacrifices needed to be made to ensure everyone's safety, Covid weddings can still be beautiful ones.
"I learned what's meant to be will be and you will end up where you're supposed to," Moreno said. "…Friends and family and the people who love you will want to help; they might just not know what to say. I found it surprising how little I cared about anything besides getting married and didn't notice the little mishaps."
Moreno shared advice for someone in the same position as she was.
"Take time to figure out what's most important to you and focus on what's most important for you, and what's supposed to be will be and give the rest to God," said Moreno.
About the Contributor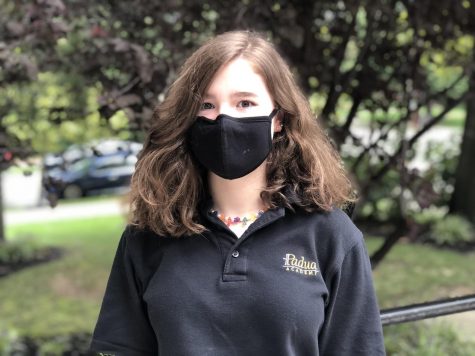 Ruth O. '24, Staff
As a new school year starts, so do new friendships. With the freshman coming in, everyone will see new faces around the building with new stories to learn....