Top 10 Christmas Dishes
Hang on for a minute...we're trying to find some more stories you might like.
With Christmas quickly approaching, we all eagerly wait for presents and also Christmas dinner. So if you are in need of a quick idea of Christmas dishes here are the top 10 Christmas dishes.
Apple Cider
Apple cider is a delightful drink that is best served warm. You can be extravagant and add many different things to add flavor to the apple cider like sugar, ginger, and even orange extract. You can even go simple by just adding nothing but cider, cinnamon and nutmeg. Here's a delicious homemade apple cider.
http://www.food.com/recipe/moms-homemade-apple-cider-non-alchoholic-253224
Eggnog
Eggnog is a drink that is deeply associated with Christmas. The drink is usually made with cream, sugar, and whipped eggs. If you love eggnog, there are many different recipes that you can use to make you eggnog specialized. If you are lactose intolerant there are many different soy eggnog recipes that tastes just as delicious.
Cranberry Sauce
When you think of cranberry sauce many people think of Thanksgiving, but this is a dish that can be served during Christmas too. If you're not really a cranberry sauce person there are a whole bunch of different recipes you can make out of cranberry sauce. For example cranberry cheesecake is a dish that can be made right after Christmas dinner and even cranberry pancakes as a nice Christmas breakfast. The link below shows some ideas:

https://www.babble.com/best-recipes/8-tasty-ways-to-use-a-can-of-cranberry-sauce/
Pumpkin-Pecan Pie
Pumpkin and pecans are a perfect pair when it comes to pie. Pumpkin-Pecan pie goes perfect in the holiday season and is full of so much flavor. This pie is very appetizing and if you have a sweet tooth for pumpkin-pecan pie this recipe below will help:

https://www.verybestbaking.com/recipes/28658/pumpkin-pecan-pie
Apple Pie
Apple pie may be a classic dish but it can be served in more than one way. If classic apple pie isn't your thing then you can always spice up your apple pie. From salted caramel apple pie to cheddar apple pie, there is always a way to spice up apple pie to make it fit you.
http://www.delish.com/content/apple-pie-recipes/
Ham
Ham is a dish that can be served during Christmas dinner. There are many different ways that ham could be cooked such as apricot and spice-glazed ham to ham with creamy BBQ sauce there are also many mouth watering flavors.
http://allrecipes.com/recipes/670/main-dish/pork/ham/
Gingerbread Cookies
Gingerbread Cookies are a fun and tasty dessert that have been a tradition held in many families for a very long time. They became associated with Christmas in Germany in the 1500's. Making Gingerbread Cookies with friends and family is a tradition some families hold. Make sure when you make these amazing gingerbread cookies to never forget the gingerbread house!
http://www.food.com/recipe/the-most-wonderful-gingerbread-cookies-80156
Candy Canes
Candy canes is one of the most iconic Christmas candy out there. Although peppermint is the only flavor that comes to mind, there are so many other flavors to choose from. From coffee candy canes to even bacon flavored candy canes, different flavors can appeal to anyone.
http://www.tasteofhome.com/recipes/homemade-candy-canes
Fruit Cake
Although many people may not like fruitcake, there are some amazing recipes out there that can help you enjoy fruit cake! For example, you can add your favorite fruits or even a lemon zest. Fruit cake is a food that can not only be delicious but can also be made in any way that appeals to you.
http://allrecipes.com/recipe/7392/christmas-fruitcake/
Roasted Turkey
Roasted Turkey is another dish that is not just for Thanksgiving! There are many amazing different recipes out there to make your Christmas turkey oozing with flavor like the one linked down below.
http://www.foodnetwork.com/recipes/ina-garten/perfect-roast-turkey-recipe4.html

About the Writer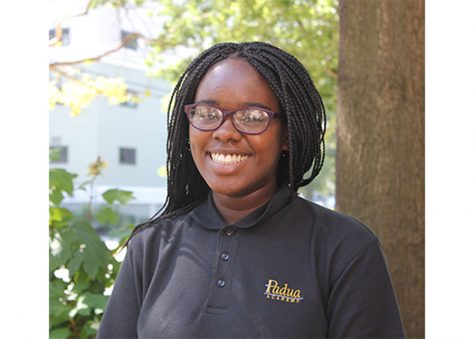 Niki D. '20, Staff
Niki D. is a freshman at Padua Academy and is an aspiring writer and loves to read. She joined multimedia journalism because she wanted to be able to write for Padua360 and learn how to be a photographer in the process. She likes to try new things and is passionate about her writing and trying to be true to herself. To her, being a team player is someone who doesn't take full control over a group and lets everyone shine and believes quality is effort and taking your time to get to your fullest potential. For something to be quality, you need to do things with the intention of doing it well because she doesn't think there is a point of putting half effort into something. To her, independence is being able to lead and do things on your own but still ask for help when needed. Her favorite books are The Outsiders by S. E. Hinton, 13 Reasons Why by Jay Asher, and The Divergent series by Veronica Roth. However, she struggles with math. In ten years she can see herself out of college and getting a masters degree or publishing books and grown in her faith. Her role models include, Nelson Mandela, Maya Angelou, and Jane Goodall. In school, she plans on joining Poetry Out Loud and wants to be part of Student Council. Her favorite music genres are pop, electronic, and some R&B although she doesn't dislike any music and will listen to anything. When asked who would be one person she'd be willing to be for a day, she said either Diane Lane, Maya Angelou, or Audrey Hepburn. She would one day like to visit Ireland, Scotland, and England. When not in school she reads, watches Netflix, and sleeps. She says her biggest challenges are her own insecurities but plans on trying to overcome them. She works diligently under pressure, but her nerves sometimes get the best of her, even if she knows how to control them. She enjoys talking to others about her interests, books, english, and history.