RBG Time Magazine: Insight into American Icon's Life
Time Magazine's Commemorative Edition honored the late Justice Ruth Bader Ginsburg. Ginsburg was an American lawyer who served on the Supreme Court from 1993 to 2020. This edition of Time magazine broke down some of the most consequential moments of her life, such as her nomination to the Supreme Court, while adding a good portion of more specific details, like how her children preferred her husband's cooking over hers. Additionally, this edition breaks down plenty of events from Ginsburg's time in the courtroom, summarizing the basic points of the cases she directed plus direct quotes from her arguments.
Ginsburg was raised in Flatbush, Brooklyn, and she was consistently noted as academically gifted. Her mother, Celia Bader, encouraged her to attend college, Cornell University in particular. She attended Cornell along with Harvard Law, and later transferred to Columbia University where she received her degree. Unfortunately, Ginsburg's mother was not able to see that, as passed away just before her graduation as valedictorian from James Madison High School. Ginsburg notes that throughout her life, her mother was always a driving force to her.
Time Magazine's Ruth Bader Ginsburg commemorative edition is compact and thorough. It is a great way to learn about the life of Ginsburg in a timely manner without any hassle. Time pulled together Ginsburg's life in a detailed, organized fashion that brought light to the parts of her childhood that shaped her to the biggest triumphs in her career.
Some highlights of the magazine are subjects such as her Jewish heritage, cases such as her argument about VMI, and to her friendship with Sandra Day O'Connor, along with an excerpt from her first oral argument in 1973 in the Frontiero v. Richardson case. The magazine ends with comments of tribute from people such as former President Obama and Vice President Harris.
This edition of Time Magazine is a great addition to your winter reading list. This edition's layout is organized including pictures with subtext to go with each article. It is informative without being too heavy. This magazine has a great mix of facts on her professional life along with nice additions of fun trivia about friendships and family as well. I can safely say that you will not be disappointed with "Ruth Bader Ginsburg: A Principled Life."
About the Contributor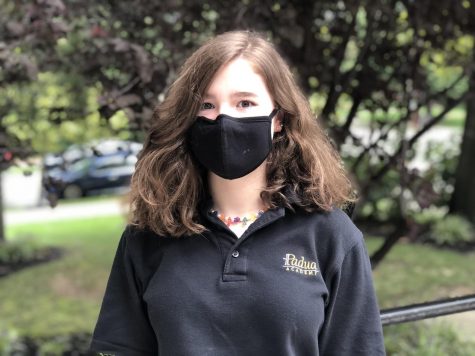 Ruth O. '24, Staff
As a new school year starts, so do new friendships. With the freshman coming in, everyone will see new faces around the building with new stories to learn....