Teens for Life Club Visits Mom's House, Shares Pro-Life Message
The Teens for Life club was started at least 15 years ago by a pro-life teacher before the current moderator, Mrs. Lammert, began teaching at Padua. The objective of the club was to "make people aware of what it means to be pro-life through service and education. On Fri., Mar. 15, a group of nine students from the club visited Mom's House to work with young children at their daycare center.
"Our mission has been to get information out about what it means to be pro-life," Lammert said. "It's not just about abortion; it's about all pro-life issues, from conception to natural death."
Past club activities include attending the March for Life, selling roses and baked goods, and inviting pro-life speakers to talk to students. Lammert's favorite is visiting Mom's House, a daycare center for children whose mothers are still in school or beginning their careers.
"I like that there is someone in the community who started a program to take care of children so single mothers could finish their education," she said. "I think we should do everything we can to support them."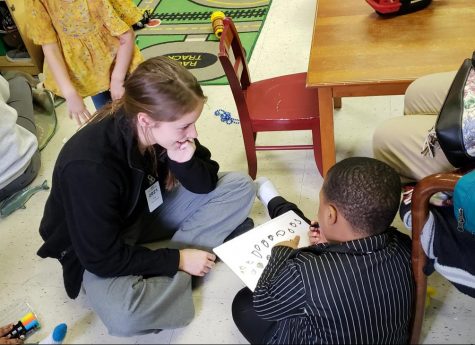 Caitlin Suter, a freshman, decided to join the club as another way to share the pro-life message and help the community.
"I have visited Mom's House twice now with Teens for Life," Suter said. "I [have] also protested against abortion."
Even though this is only her first year with Teens for Life, Suter has helped take care of children at her neighbor's daycare during the summer, and she wanted to continue working with kids through this activity.
"I volunteered at Mom's House because I like to watch [and] play with kids," Suter said.
Sophomore Mia Casale joined the Teens for Life club in order to put its mission of pro-life awareness into action through service. She was not part of the club last year but has attended a pro-life rally.
"I would like to spread awareness on the issue of abortion and try to help by volunteering to help people who decide to keep their children," she said.
Casale chose to visit Mom's House for the first time with the club last week. Caring for the young children at the organization brought her a lot of happiness.
"I decided to volunteer at Mom's House because I love children and I know when I was a kid I loved when older kids visited my classroom," she said. "My favorite aspect of being in this group is knowing that I am helping others and being able to help take care of the kids in Mom's House."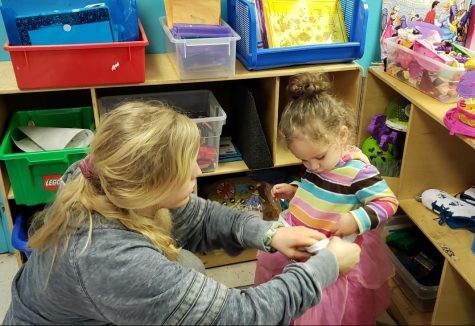 Although many dedicated students take part in Teens for Life activities, Lammert wishes there were more "active participation." It is difficult to know if members are able to attend meetings or join a service project because there are so many other clubs at school.
"I'll set something up and then people can't attend, and it makes it very difficult," Lammert said. "I could do more with them… if I could count on their participation."
Lammert also hopes to educate the club members about other pro-life topics besides working with infants and maintaining an anti-abortion stance.
"We could talk about children with special needs and adults with special needs in the community and how the Church addresses those," she said, "and we could talk about what it means to be a pro-life person for those who are reaching the end of their life… and how we are there to support them."