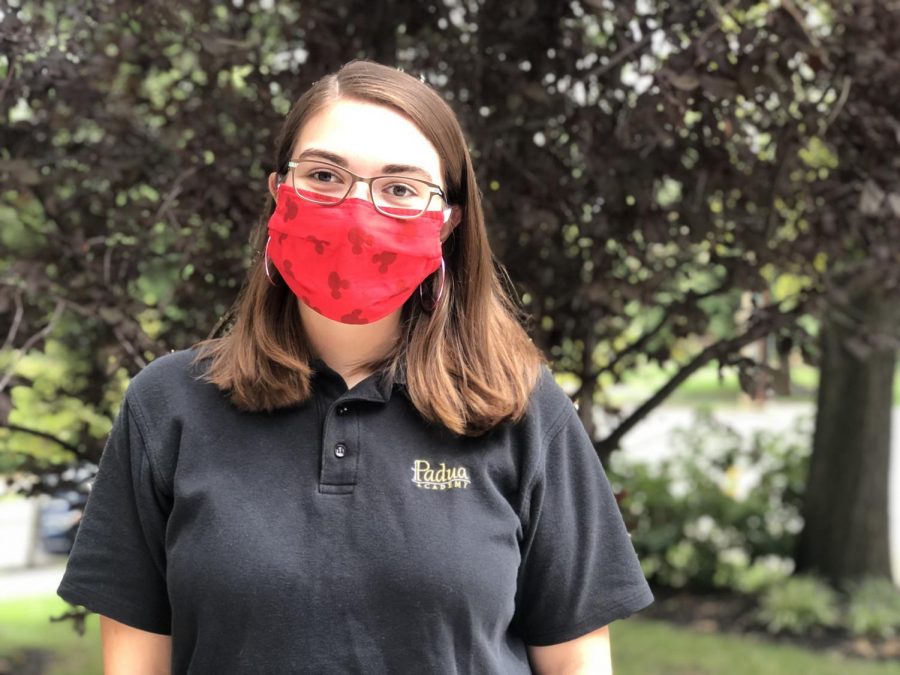 Emily is a Junior at Padua Academy. She took Journalism as a Freshman and is back to be Padua's youngest editor-in-chief! As a writer, she won two awards at the state level and one at the national level for her articles. She is excited to be back in the class after her year away.
"I'm excited to see what the staff writers can do and what they can produce," she said.
Emily's favorite part of Padua is getting to know her teachers. She is most excited about her AP Lang class. Her favorite band is Twenty One Pilots, favorite food is Caesar salad, and favorite place is Disney World.
Emily is the oldest sibling, with one sister, who is a Freshman at Padua, and three step-siblings. She also has two cats, Sunny and Zeppelin.
She splits her time between her parents' homes in Wilmington and Middletown. "It's weird having divorced parents, but I'm so used to it," she said. "My mom remarried four years ago and I have three step siblings. It's always boatloads of fun."
Aside from journalism, Emily is involved in many activities. She enjoys dance, stage crew at Salesianum, acting in Padua theatre, Peer Leadership Team, and lectoring at mass. 
"I'm sort of a Crew Mom [at Salesianum] because it's mostly the guys who might do stupid things and I keep them in line," Emily said. "I just really liked working with the actors and the stage crew people, especially during Ragtime."
Emily spent her summer volunteering at the Air Mobility Command Museum in Dover, Delaware. 
"I needed to be here [at the museum] all the time. And before you know it, I was going three times a week."
Inspired by multiple family members who have served in the military, she hopes to one day become an officer in the Air Force, working in either flight test engineering or in acquisitions and logistics. 
"I'm excited to serve my country while also pursuing a STEM career," said Emily. "There's something I love about the opportunity to put on the uniform and work in that military environment."
Emily M. '22, Editor-in-Chief
Nov 11, 2020

Biden-Harris Victory Draws Crowds to Riverfront

(Story/Media)

Nov 02, 2020

Seniors, Alumnae Ready to Vote in 2020 Election

(Story)

Oct 21, 2020

Guidance Office Welcomes New Counselors

(Story/Media)

Sep 30, 2020

Meet Padua360's New Editors

(Story)

May 06, 2019

105 Years of Marches on Washington

(Story/Media)

May 05, 2019

Editor-in-Chief Stella White Named Journalist of the Year

(Story)

Apr 17, 2019

Ronald's Rescue Hosts Second Annual Cornhole Tournament

(Story)

Apr 16, 2019

As Mrs. Mann Parts Ways With Padua, Hopes and Questions Emerge

(Story)

Apr 10, 2019

Laser Physicist Initiates Science Lecture Series

(Story/Media)

Apr 03, 2019

Teens for Life Club Visits Mom's House, Shares Pro-Life Message

(Story/Media)

Apr 01, 2019

CyberPatriot Team Commemorates Winning Season

(Story/Media)

Mar 30, 2019

Jess Molen: Avid Astrologer

(Story/Media)

Mar 08, 2019

French Teachers Invite Students to Celebrate and Create Art

(Story)

Feb 26, 2019

Alumnae Panel Discuss Engineering Careers with Students

(Story/Media)

Feb 18, 2019

Painting a Picture of Self-Expression

(Story)

Feb 10, 2019

Looking on the Bright Side of Divorce

(Story)

Jan 28, 2019

Voices for the Voiceless

(Story/Media)

Jan 17, 2019

A Successful Spaghetti Dinner

(Story/Media)

Dec 12, 2018

The Future of Calling in a Text Message World

(Story/Media)

Nov 26, 2018

Sacrifice and Service: The Importance of Veterans Day

(Story)

Nov 09, 2018

Focusing on Freshmen in Marching Band

(Story)

Oct 29, 2018

First Man: A Phenomenal Film

(Story)

Oct 17, 2018

Sara Spoltore: A Dancer with Spirit

(Media)

Oct 14, 2018

Ms. Altoe: A New Face at Padua

(Story)