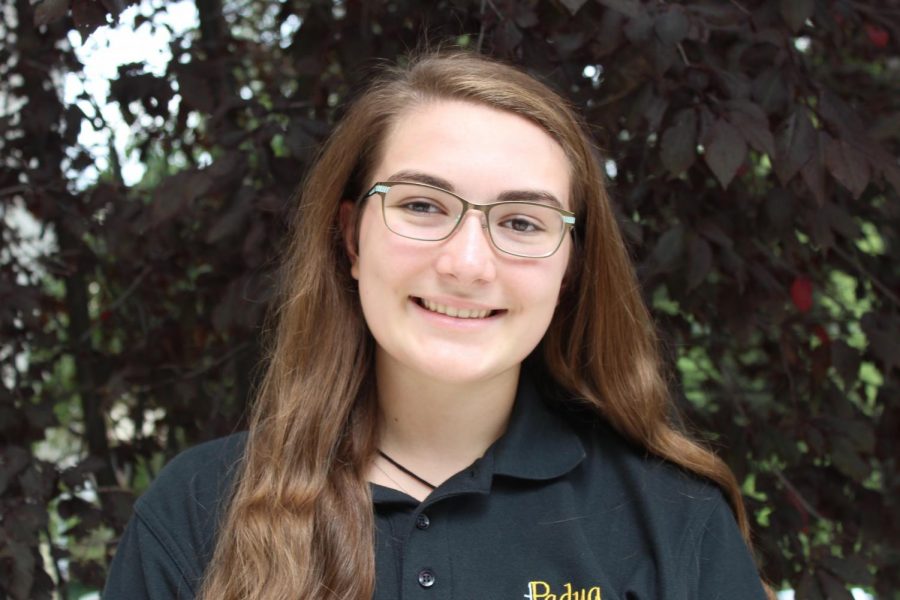 Meet Emily. She is excited to make new friends and start a new chapter in her life as her freshman year at Padua Academy begins.
Emily is the oldest of her younger sister as well as three step siblings. She also has two cats, named Sunny and Zeppelin, whom she loves to take care of.
During her free time, Emily loves to volunteer, dance, and play volleyball. Community service is also a huge part of Emily's life. She loves to give back to her community by helping out at her middle school's carnival. Recently, Emily began her 11th season of dance and is training in a variety of styles, ranging from ballet to jazz. She is a member of the CYM Senior League volleyball team for St. John the Beloved, her old grade school.
She has an extensive interest in math and non-fiction reading and writing. In the future she hopes to soar into the field of aeronautical engineering. Her dream would be to attend the Air Force Academy.
To fuel her interest of writing, she is excited to be a part of the Multimedia Journalism class and looks forward to expressing her creativity.
Emily M. '22, Reporter
May 06, 2019

105 Years of Marches on Washington

(Story/Media)

May 05, 2019

Editor-in-Chief Stella White Named Journalist of the Year

(Story)

Apr 17, 2019

Ronald's Rescue Hosts Second Annual Cornhole Tournament

(Story)

Apr 16, 2019

As Mrs. Mann Parts Ways With Padua, Hopes and Questions Emerge

(Story)

Apr 10, 2019

Laser Physicist Initiates Science Lecture Series

(Story/Media)

Apr 03, 2019

Teens for Life Club Visits Mom's House, Shares Pro-Life Message

(Story/Media)

Apr 01, 2019

CyberPatriot Team Commemorates Winning Season

(Story/Media)

Mar 30, 2019

Jess Molen: Avid Astrologer

(Story/Media)

Mar 08, 2019

French Teachers Invite Students to Celebrate and Create Art

(Story)

Feb 26, 2019

Alumnae Panel Discuss Engineering Careers with Students

(Story/Media)

Feb 18, 2019

Painting a Picture of Self-Expression

(Story)

Feb 10, 2019

Looking on the Bright Side of Divorce

(Story)

Jan 28, 2019

Voices for the Voiceless

(Story/Media)

Jan 17, 2019

A Successful Spaghetti Dinner

(Story/Media)

Dec 12, 2018

The Future of Calling in a Text Message World

(Story/Media)

Nov 26, 2018

Sacrifice and Service: The Importance of Veterans Day

(Story)

Nov 09, 2018

Focusing on Freshmen in Marching Band

(Story)

Oct 29, 2018

First Man: A Phenomenal Film

(Story)

Oct 17, 2018

Sara Spoltore: A Dancer with Spirit

(Media)

Oct 14, 2018

Ms. Altoe: A New Face at Padua

(Story)